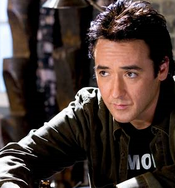 Main Plot Role
Edit
None at this time.
Major Event Participation
Edit
None as of yet.
To be filled in.
Childhood Background
Edit
To be filled in.
Schooling
Edit
To be filled in.
Adult Background
Edit
Bit by a werewolf and became one himself.
Independently employed.
Memorable Quotes
Edit
With his stomach filled to the rim, Logan sat back in his chair cradling his coffee. "I find it rather ironic. I've spent most of my time on the road of late and found the one place I wanted to be more then anything was right back on the stage, but now my only wish is to sit on the balcony of one of my flats and swoon the night in a symphonic slumber." With a sigh the weary eyes looked into the cup of coffee before raising it to his lips to take another sip.
"I've blabbered on to much about myself, you'll have to forgive me for that. You live alone long enough, the world seems to start to revolve around yourself. Perhaps you can humble me by sharing more about yourself." ~ from A New Beginning
Friends & Relationships
Edit